Lydia Valentín, triple Olympic weightlifting medalist:
"What elite athletes and growers have in common is perseverance, dedication and the ability to overcome setbacks"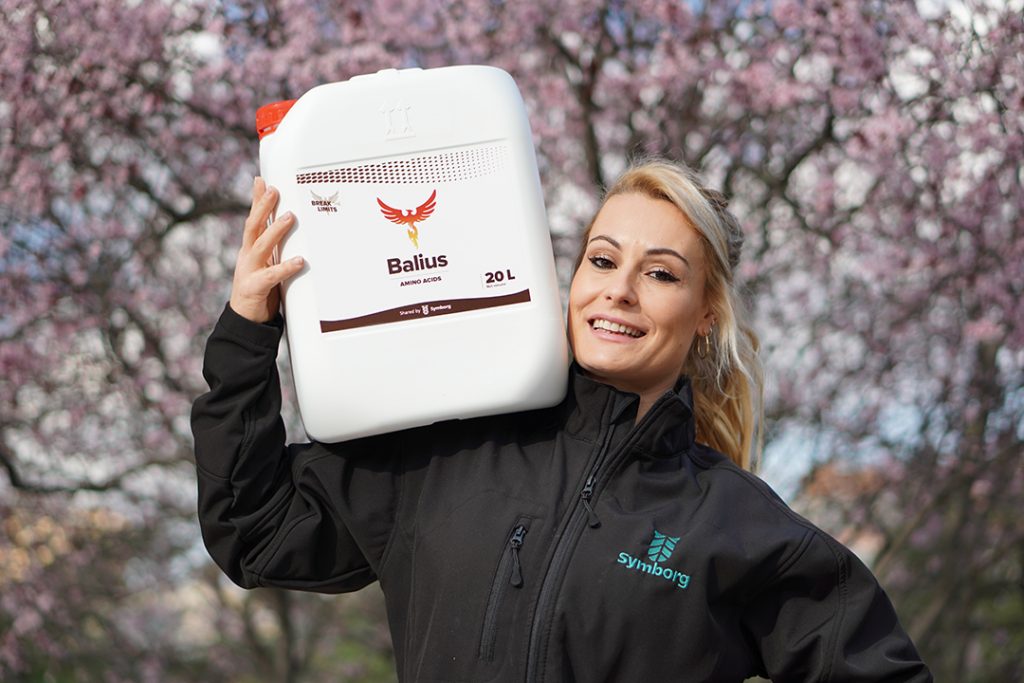 The multinational Symborg strengthens its role as a manufacturer of biotechnological solutions with the opening of its new factory and the launch of Balius, the new biostimulant based on amino acids designed and produced by Symborg. Balius is composed of pure alfa-keratin, is 100% sustainable and compatible with all types of agriculture, both traditional and organic.
The launching event, held digitally on March 25th, revolved around the question "What's the connection between a farmer and an elite athlete?". The person answering this was Lydia Valentín, triple Olympic weightlifting medalist, and Spanish, European and World champion.
The Spanish athlete participated in the event, highlighting that "what elite athletes and growers have in common is perseverance, dedication and the ability to overcome setbacks. A trophy can be a medal and a trophy can also be a good harvest. But, in the end, the real reward is to feel proud of what you do".
Likewise, according to Valentín, "Real life is the day-to-day. The sweat. The early mornings. Always pushing forward despite the fatigue. That dedication makes the difference. We athletes have it and farmers have it too".
The attendants were able to take a virtual tour of Symborg's new hydrolysis plant, designed for the manufacturing of sustainable products for agriculture, such as biofertilizers, biostimulants and biocontrol. The first product produced in this plant is Balius, pure α-keratin that provides an extra dose of energy at times when the crop needs it most.
"Balius is a new source of energy to unleash the potential of crops, for example, in moments of maximum nutritional demand or during periods of abiotic stress of the crop," declares Jesús Juárez, founding partner and CEO of Symborg.
Balius biostimulant provides crops with an energy boost with immediate absorption and long-acting effect thanks to a careful balance of free amino acids and short and long chain peptides. This contributes to a greater stimulation of the plant's physiological and cellular processes, as well as to a more balanced nutrition. As a result, this new solution increases fruit production through better sprouting, flowering, fruit setting and retention of the fruits. It also makes the crop more resistant to stress conditions, increasing its tolerance to adverse conditions such as high temperatures, frost, drought, waterlogging, salinity, transplanting, pruning or osmotic imbalances.
Thanks to its exclusive manufacturing process, based on a double biological hydrolysis, Balius is a nutritionally complete product, a source of organic nitrogen, a stable, homogeneous and free of impurities solution. 
"We emphasize the qualities of complete, stable and homogeneous, because these are great added values for growers that are not easy to find in hydrolysis products," Juarez points out.
Symborg's new hydrolysis plant is based on circular economy, zero waste and energy efficiency criteria 
Symborg's plant is located in Alhama de Murcia (Region of Murcia, Spain) on a 40,000 m2 industrial site with a total investment of 28 million euros. The hydrolysis plant has been designed under circular economy, zero waste and energy efficiency measures, wich will avoid the emission of approximately 100 tons of CO2 into the atmosphere per year.
"The new factory allows us to achieve the 360 model we have always pursued. Symborg's purpose is to help in the transformation of the current agronomic model. We were born innovative and sustainable, and, thanks to this new investment, we can apply these principles also in manufacturing," concludes Juárez.    
The launch event is available now on Symborg's Youtube channel