Increase the profitability of

potato crops thanks to microorganisms

Revolutionize your potato crops and maximize their productive potential thanks to microorganisms.
Potato is a strategic crop due to its contribution to food security, its nutritional value and supply of energy. According to FAO, it's the fourth most grown food crop in the world, just behind corn, wheat and rice, with almost 24 million hectares dedicated to potato in 2021.
Nowadays, there are tools that aid in overcoming the challenges currently faced by producers and even boost yields, leading to more quantity and higher yields, greater length. Do you want to learn how? We'll tell you below.
The current context
These last seasons have presented great challenges for producers worldwide and also in the U.S.. Extreme temperatures, stress caused by the drought, or raises in costs of production are only some of the difficulties that might have a significant impact in production, affecting yields, tuber size and weight. For these reasons, potato growers in the United States seek to improve productivity in potato farming, as well as fruit quality, size and firmness without a decrease in crop profitability. The improvement of farming practices and use of new technologies can help potato producers in facing these challenges while increasing the productivity and profitability of their crops. Is it really possible? Keep on reading.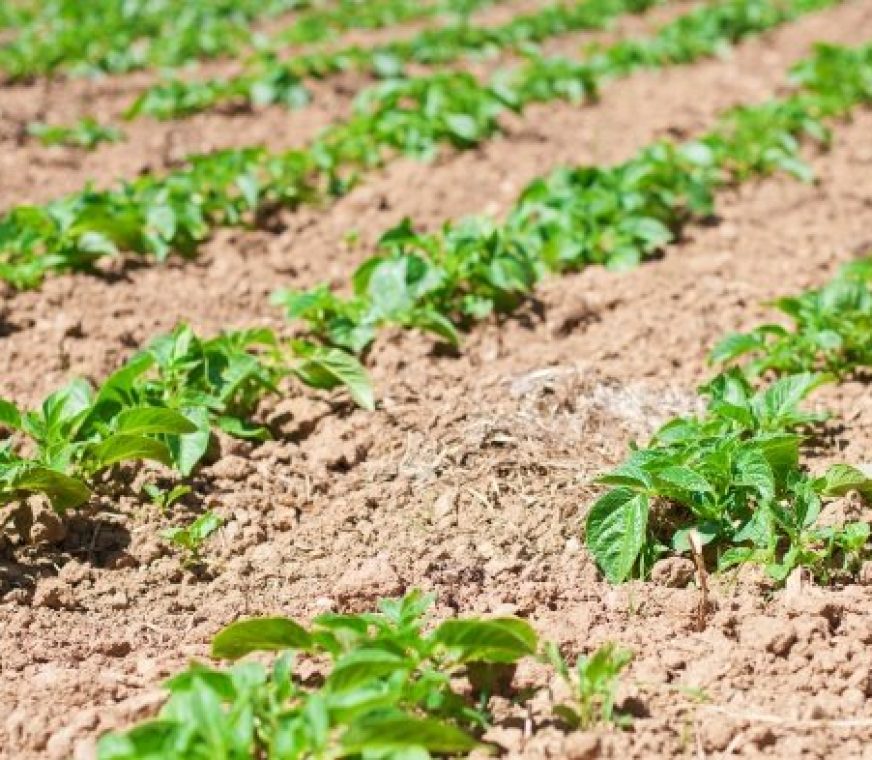 In this scenario, what solutions or alternatives do we have?
What can you do to face these challenges and improve productivity, quality and tuber characteristics in potato farming? The answer is simple: use biotechnology. Biotechnology solutions based on microorganisms are amazing tools to increase the profitability and competitiveness of potato growers. This is where Symborg comes in to help you optimize your potato crop performance. To give an example, at Symborg we've achieved a 6% increase in tuber size and an 8% increase in solids in potato farming in different parts of the world. What's more, we also obtained a 5% increase in tuber firmness and a 9% increase in yield per acre. These are the results obtained in trials carried out in Idaho, USA, in which participated several of our team members together with farmers growing Chipper, Clearwater, Burbank, and Ranger varieties. All of this means greater efficiency and profitability for growers.
Take your harvest to the next level by using microorganisms
These results were obtained from different trials conducted using our biotechnology products based on the exclusive arbuscular mycorrhiza-forming fungus (AMF) 
Glomus iranicum
 var.
tenuihypharum
. This fungus, exclusive to and patented by Symborg, establishes a long-lasting symbiotic relationship in which the fungus exchanges water and nutrients with the plant in return for sugars produced during photosynthesis.
This leads to an increase in the crop's root system and the activation of key metabolic processes such as photosynthesis itself. What's more, mycorrhizal symbiosis enables crops to increase CO2 capture and boost water-use efficiency (WUE) and nutrient-use efficiency (NUE). All this leads to an increase in the plant's productive potential.
MycoUp 360 is one of our biological inoculants composed of Glomus iranicum var. tenuihypharum and the organic mineral complex 360. Working synergistically, they make it possible to achieve the biological balance of soil and encourage the efficient development of crops, even when nematodes are present. What's more, it delivers better crops in terms of yields, fruit quality and size.
Resid MG, also composed of Glomus iranicum var. tenuihypharum, contributes towards improving plant nutrition and has positive effects on the physical, chemical and microbiological properties of soil. It's important to remember that keeping soil alive and healthy with the right microbe biome balance will have a direct impact not only on the environment, but also on crop yields.
MBB 10 is a soil regenerator based on carefully selected rhizospheric microorganisms. It fixes nitrogen and improves the microbe biome balance in the rhizosphere, putting nutrients locked in the soil at the disposal of crops.
Do you want to fight against the effects of weather conditions and the rise in the prices of inputs with sustainable, easy-to-apply solutions? Join Symborg's biotech revolution. We're waiting for you!
SELECTED MICROORGANISMS
FOR POTATO
Maximize the productive potential of your potato crops with our exclusive microorganism-based products: